A global leading company specializing in biosimilars' distribution
A biosimilar is a biologic product developed and proven to be biologically identical to a previously approved biologic known as the reference product using the same active substances. Known for its high quality and affordability, the biosimilar has become an innovative medicine for patients with different diseases across the world including Europe and the United States.
The first biosimilar rituximab
approved in the United States

Celltrion Group entered the world's largest market by obatining the US Food and Drug Administration (FDA)'s approval of biosimilar rituximab for the first time in 2018. Celltrion Healthcare's oncology biosimilars have been widely prescribed in Europe and the other parts of the world, getting positive reviews from patients, doctors, and other relevant agencies. Thus, these oncology biosimilars are expected to be well received in the United States as well.
Global revenue share of Rituximab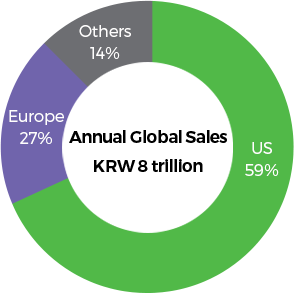 Source : IQVIA 2018
The pioneer of oncology
mAb biosimilars

Celltrion Healthcare has been demonstrating its competencies through its rapid growth in the field of oncology treatment. With the first oncology biosimilar launched in Europe in 2017, Celltrion Healthcare displayed rapid growth within a year after the launch. Following the success of the existing products, the other oncology biosimilar launched in Europe in 2018 has been widely prescribed.